Read Aloud with the Author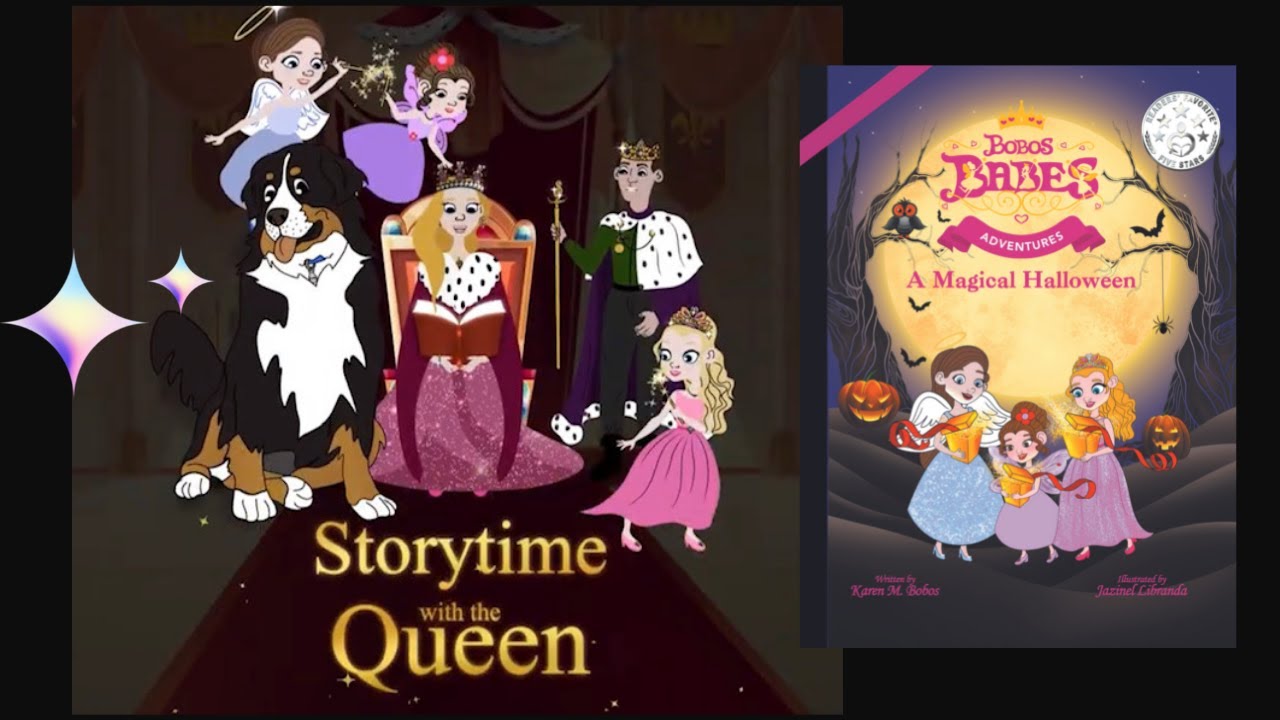 Don't Miss a Bobos Babes' Moment
New Adventures, Book Releases, "Laugh with Daph," "Storytime with the Queen," "Sunshine with Scarlett," Freebies, Birthday Messages, & More!
Get a
Downloadable Bookmark
to save your favorite parts of The Bobos Babes Adventures.
Award-winning author, Karen M. Bobos' latest adventure is available for purchase.
It's Halloween time in the land of Harmony, and the Bobos Babes are ready for some fun!
When Angel Scarlett, Fairy Cora, and Princess Daphne visit Lily the Ladybug's Boutique to look for Halloween costumes, they find Lily has left aside three special masks for them. The ladybug informs the sisters that they must wait until noon on Halloween to try on the mysterious masks but assures them they will have the best costumes in all of the land of Harmony.
The sisters can hardly wait, counting down the minutes on Halloween until they can don their curious masks. When the time comes, they learn their secret masks are enchanted, and the girls are magically transformed into the costumes of their dreams.
After a fun outing Trick-or-Treating, the little monster, witch, and ghost — or sisters — agree that this was the best Halloween of all.
Your After-School Dose of Happiness
Check out a new episode every week!
Joyful And Sweet!

My children love this book, and it sure made them giggle! I have been looking for a book with a sweet relatable story with a lesson. Spreading joy and laughter is a good thing. There are always lessons to be had either good or bad. I can't wait to read this wonderful story again to my children!

JTeacher78, Barnes & Noble Customer

Learning Through Fun

This is an adorable book with a lighthearted story of sisterly love. In addition to the vibrant graphics and cute story, my daughter and I enjoyed the rhyming words and even learning some new words throughout the book. It's a quality book that would make a unique gift.

TLove, Barnes & Noble Customer

A Great Story That Celebrates Sisterhood!

The Bobos Babes are a delightful trio of sisters, each with their own special gift, and this story is a wonderful reminder of the joys of sisterhood. Written in fun rhyme, the kids in your life are sure to enjoy reading this out loud together with you, and they'll love the animals the sisters meet along their adventure too! (We especially loved Leonard the Lion!)

LBMoffitt, Barnes & Noble Customer
In this crazy world, where many of us reside, full of differences that often cause us to bump and collide, children need to escape with their most magical dreams to where creatures co-exist and love bursts at the seams. My daughters -- my muses, my inspiration, my why -- gave me the courage to find my passion that I had tucked aside. The Bobos Babes Adventures were born in the summer of 2020, filling us with hope when our hearts were feeling empty. May their love for each other and their passion for life help you find your own Angel, Princess, or Fairy inside. Each story contains characters who represent people we love in hopes of keeping them alive forever on Earth and in Heaven above. ~ Karen Bobos
Multi-Award Winning Books